Pumpkin Oat Pancakes
PORTIONS: 1-3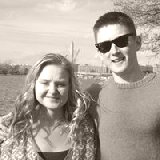 BY
DNAllyn
Danielle Allyn
0

0

6 years ago

1/2 cup whole wheat flour
1/2 cup oats
2tsp brown sugar
1/2 tsp baking soda
1 tsp cinnamon
1 tsp pumpkin pie spice
1/2 tsp nutmeg
2tbsp butter, melted
2/3 cup almond milk
1 egg
1/2 cup canned pumpkin

1. Mix dry ingredients in large bowl.
2. Mix wet ingredients in small bowl. Add to dry ingredients and mix.
3. Add pumpkin and mix.
4. Heat griddle to medium heat. Pour batter, one pancake at a time, onto greased griddle.