Chocolate chip cookies
PORTIONS: MAKES 85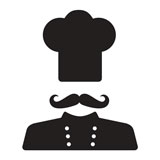 BY
annalee
Annalee
0

0

6 years ago

2 1/4 cups all-purpose flour
3/4 teaspoon baking powder
1/2 teaspoon salt
1 cup unsalted butter (2 sticks) soften
3/4 cup sugar
1/2 cup packed light brown sugar
2 eggs
2 teaspoons vanilla extract
2 cups semisweet chocolate chips

In a small bow, mix the flour, baking powder, and salt. In a large bowl cream the butter and sugars, than add the eggs, one at a time , mixing well after each addition. Stir in vanilla extract, then separate dry mix in to three different bowls making each equal. Then pour the first bowl in to wet mix and combine thoroughly and repeated with the other two bowls. Then stir in chocolate chips. For chew cookies refrigerator for two hours. With a table spoon take scoops of the dough roll in hands place on cookie sheets with 1 1/2 inch between. Preheat oven to 300 degrees Fahrenheit. Bake for 17 to 19 minutes. Let cool for five minutes then move to wire rack.