Eggplant Rollatini
PORTIONS: 6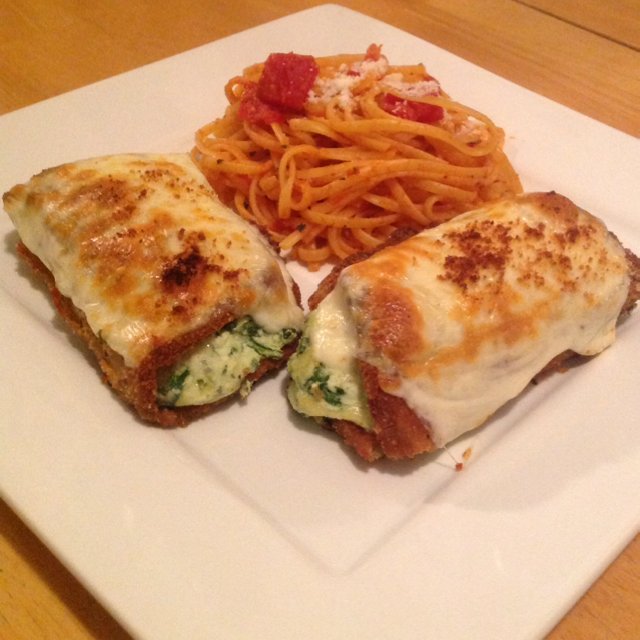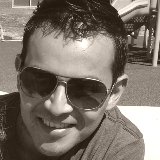 BY
thay
Jesús
4

4

7 years ago

1 Eggplant
10 oz Ricotta Cheese ( whole milk )
8 oz Shredded Mozzarella Cheese
4 oz Fresh Spinach
Salt & Black Pepper ( to taste )
1 lb. Linguine Pasta
1 Jar of Chunky Marinara Sauce
Parmesan Cheese ( if desire )
25 fl oz Canola Oil
15 fl oz Italian Bread Crumbs
1 cup White Flour
3 Eggs
1/2 cup Milk

DIRECTIONS : 🍆
Stuffed Rollatini
-THE STUFFING :
- Mix well the ricotta,1/2 cup of mozzarella and spinach (just tear it with your hand) , add salt 
and black pepper to taste.
-THE EGGPLANT :
- Peel the skin off then slice it into 1/8 each piece (12 slices per eggplant).
-Have in three different containers white flour,egg mixed with the milk and Parmesan cheese
and one with the bread crumbs.
- At this point you can start the oil at medium temperature, use a big enough frying pan.
- Pass each slice in flour first, then egg and last bread crumbs*, after they are all breaded
place them in the hot oil and cook each side for 2-3 minutes or until golden brown, move
them regularly, drain good after. Let them cool for a while (it will be easier to roll them).
- Turn on oven at 400 F
- Place a tbsp of the ricotta mix on a fried eggplant, starting from the skinner part roll up and
put some pressure as you roll,repeat process for the remaining eggplants, pour 1/2 a cup 
of marinara sauce into a baking dish and place the Rollatini with the joint facing down and 
bake for 7-8 minutes.
- THE PASTA :
- Boil enough water for pasta with some salt and cook it al dente around 6-7 minutes,drain 
well after done, heat up the remaining sauce and toss it with the pasta,Parmesan cheese 
for more flavor.
- After 7-8 minutes in the oven, change it into high broil and add desire amount of mozzarella 
cheese on top of each and cook until melt and serve with the pasta.
*TIP : Use one hand to do the flour and egg,the other for just the breading, this will 
keep the bread crumbs clean.