Parmissan crusted red potatos
PORTIONS: 8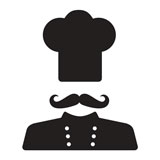 BY
sgn3bd
Stuart Olsen
0

0

6 years ago

8 Klondike gold red potatoes
1/4 grated parm
1/4 cup parm Romano
1/2 stick of softened butter
Salt and pepper

Cut potatoes in half then score in 1/16 inch sections, smear with butter, salt and pepper then sprinkle the combined cheese on potatoes. Bake at 350 for 45-60 minutes. Serve as is or topped with sour cream and chives.