Tart crust
PORTIONS: 8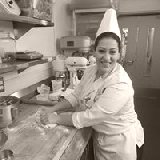 BY
nanor.harboyan
Nanor Harboyan
0

0

6 years ago

2/3 cup powdered sugar
1.5 cups flour
.5 tsp salt
8 tbsp butter ice cold and cubed
1 egg yolk
2 tbsp heavy cream
1 tsp vanilla
Pulse dry ingredients, scatter butter , pulse until the butter is the size of small peas, combine yolk and heavy cream and vanilla and drizzle in while food processor is
Running and the dough clears the side of the bowl.
Chill for at least 1 hour or up to
Two days. Line tart pan and freeze
30 mins, line with parchment and weights, blind bake for 25 mins at 350, remove weights and bake for another 5-10 mins until crisp.