Loaded baked potato salad
PORTIONS: 5-10 PEOPLE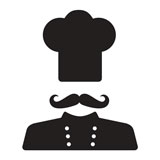 BY
jeffchauvin
Jeff Chauvin
0

0

7 years ago

5Yukon potatoes.(cut into 1 inch cubes)
1/2 pound of bacon.(cooked and ruff chopped)
1/2pound of white onion.(Julianne and caramelized)
1/2 cup of sharp white cheddar
1/4 cup chives (small chopped)
2 cloves of roasted garlic(minced)
👉Dressing
In a small bowl:
1/4 cup mayonnaise
1/4 cup sour cream
1/3 cup ranch dressing
3 cloves of minced garlic
1/3 cup chopped parsley
Salt and pepper
Combine sour cream mayo and ranch dressing whisk together. Add parsley and garlic. Salt and pepper to taste.
Place on side.
Prep:
Boil potatoes till tender (not over cooked).after boiled place potatoes in a bowl of cold water to cool down.
Cook bacon till crisp. Ruff chop to desired size.
Oil a sauté pan. Place julienned onions in hot pan sauté till golden brown.
Chop the chives to desired size.
Combine potatoes cheese and onions and 1/2 dressing. mix with spoon or hands. Careful not to mash the potatoes. Add chives and bacon. Add remaining dressing mix well.