Sausage Stars
PORTIONS: 60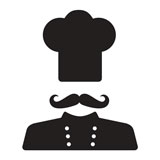 BY
bowlcoach
Mike
0

0

9 years ago

1 package Won Ton wraps (60 count)
2 lbs Sauage; browned & drained
1 jar Pimentos; diced fine
1 1/2 cans Black olives; diced
16 oz Jack cheese; grated
16 oz Ranch dressing; bottled

1. Press Won Ton wraps into mini muffin pans, spray with Pam and bake at 350 degrees until brown.
2. Combine sausage, cheese, pimentos, black olives and ranch dressing. Fill cooled Won Ton wraps with mixture and bake at 350 degrees until hot - approximately 7-10 minutes.