Curry chicken
PORTIONS: 2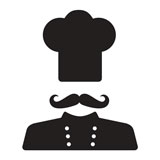 BY
JaynieB
Jayne Burns
1

1

9 years ago

2 Chicken breast
1 Carrot
2 Truss tomatoes
1/2 Red capsicum
2 Celery stalks
1/2 Brown onion
1 Tbsp Curry powder
2 Chicken stock cubes
4 Tbsp Flour
1 Cup Water
1 1/2 Cups Milk
Salt and pepper to taste

Blanch chicken in hot water, and allow to cool once fully cooked.
Sweat onion in butter.
Cook off celery and carrot first.
Add capsicum, then tomato last.
Add curry power and stir, making sure all the vegetables are covered.
Add flour and continue to stir.
Gradually add the water and milk, ensuring the stir continuously.
Simmer on low to allow the sauce to thicken.
Crumble in stock cubes and stir in completely.
Once sauce has thickened, finely shred the chicken and add to sauce
Stir until all the chicken is coated.