Millet crusted bagels
PORTIONS: MAKES EIGHT BAGELS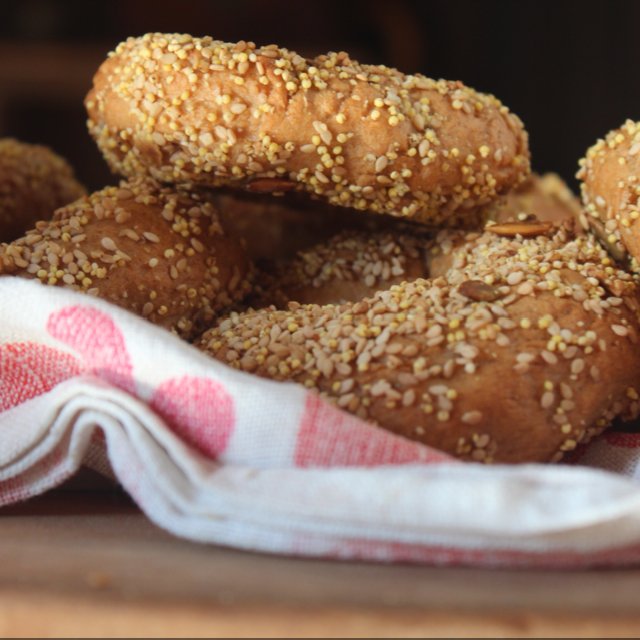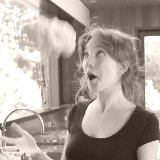 BY
Laura-bella
Laura Dillon
1

1

6 years ago


AndreasSachse
6 years ago
Sounds delicious - must try these!
Dough-
1 cup warm water
2 teaspoon yeast
1 tablespoon raw honey, or maple syrup
A teaspoon salt
2 teaspoons of nut oil
1 1/2 cups unbleached all purpose flour
1 cup whole wheat
Baking soda

Crust-
1/3 cup millet
1/4 cup of pumpkin seeds
1/4 cup of unhulled sesame seeds
+ teaspoon fennel seeds if you want them

Method-
Pour the warm water, yeast, and honey in the bowl of stand mixer. Stir with a wooden spoon to dissolve yeast and honey, let sit for 5-10 minutes or until mixture begins to fluff up! (foam slightly)

Plonk in the cup of wholemeal flour, the salt and the nut oil ( I used sesame oil), and mix a bit. If you have a stand mixer with a dough hook attachment use that and put on to knead while you slowly add the white unbleached flour, until the dough stops sticking to the sides. Continue to knead for ten minutes. ( perfect time to make a coffee and watch the mixer do all the work like I did!).

OR If you don't have a stand mixer, then continue to mix after you add the wholemeal flour and slowly add the white flour and stir by hand until the dough comes together. Then drop onto a floured surface and knead well for ten minutes.

After, place the dough on a floured wooden board and bash around into a circle. Cut in half, those two in half again, and then those four in half again so you end up with eight even pieces of dough.

Leave to rise for 30 minutes covered with a clean tea towel.

When risen, roll each bagel into a sausage shape, and connect at each end to make a circle with a two inch diameter hole in the centre. Place back on the board and cover again, to rise for a further 15 minutes.

While they are doing their final rise, preheat the oven to 220°c (425°f). Fill a big pot halfway up with hot water and bring to the boil. Then sprinkle in two teaspoons of bicarbonate soda. in the mortar and pestle grind the millet sesame and pumpkin seeds lightly and then pour onto a surface that you can toss the bagels on once boiled.

Now boillingggg! Use a slotted spoon to carry a bagel over and place in the water that should be at a rolling boil. Boil the bagel on one side for a minute, then turn it and boil for another minute on the other side. When done, lift the bagel out with the slotted spoon and lay in the millet mix, making sure you coat it well before moving it to a baking sheet.

Repeat this for the other bagels. I really don't recommend trying to boil to many at once, if you do it will get so frantic you will feel like melting into a puddle on the kitchen floor, and that would be quite messy so maybe try and avoid doing that!

Slide into the oven to bake for 10 minutes, then take them out, flip them over and bake for a further 5-7 minutes on the other side until golden brown.

Slide into the oven to bake for 10 minutes, then take them out, flip them over and bake for a further 5-7 minutes on the other side until golden brown.

Done! Now just grab one, trying not to burn your fingers, cut in half, pop in toaster and top with your favourite toppings!!!

Here are some combos that are pretty fine:

-Fresh ricotta and honey
-Butter and vegemite
-Lemon aioli
-Almond butter
-Smoked salmon, capers, and fennel
-Fried rosemary garlic egg
-Feta and carrot with honey and lemon juice
-Avocado and garlic with cherry tomato
-Blue Cheese and apple
-And if you're feeling fancy try fresh figs, honey and prosciutto, it's heaven with every bite

Enjoy!

Laura xx



AndreasSachse
6 years ago
Sounds delicious - must try these!