Sweet baby octopus w/ salad
PORTIONS: 1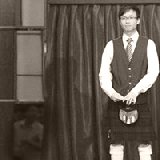 BY
Calvin_Kan
Calvin Kan
0

0

9 years ago

Ingredients:
Baby octopus
Mixed salad vegetables
Tomato (1)
Onion (0.5)
Rice
A slice of lemon
A bit of wine
Salt
BBQ sauce
Sesame oil
Honey
Soya sauce

Steps:
1. Gut and cut baby octopus, separating tentacles and head

2. Clean the octopus and boil them with wine and salt until they fall off the fork when you try to poke them
(Cooked)

3. Start mixing the sauce. 2 tea spoons of sesame oil, soya sauce and BBQ sauce, 1 scoop of honey. Several squeezes of lemon juice.
Mix well. Multiply the amount according to ratio if applicable.

4. Lightly fry onion and tomato.

5. Serve!