Chilli garlic prawns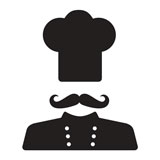 BY
celest
Celeste Garcia
0

0

6 years ago

Chili Garlic Shrimp Saute

Ingredients

1 lb. Shrimp, cleaned
2 tablespoons butter, melted
2 tablespoons olive oil
1 teaspoon crushed red chili flakes
1 teaspoon dried parsley flakes
2 teaspoons minced garlic
Salt and pepper to taste
Cooking Procedure

Heat butter and olive oil in a saute pan.
Put-in the garlic and crushed red chili flakes. Cook in medium heat until the garlic turns light brown (this will take between 2 to 3 minutes).
Add the shrimp. Saute for 8 minutes.
Sprinkle salt and pepper, and add the parsley flakes. Continue to cook for 2 to 4 minutes.
Transfer to a serving plate. Serve.
Share and enjoy!