"Taco"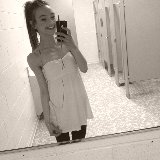 BY
Michelle
Michelle Thomas
3

3

5 years ago


connie.hilton.77
5 years ago
Yummy looks good
I love these! They're fun to make and experiment with! It makes 3 large tacos, so I usually eat one for breakfast, one for lunch, and one for dinner. Mmm! I didn't get a label for these since there are variations, but they're around 120 calories for 3 tacos!

Basically, you'll need:

'Meat'
Salsa
Taco 'shell'

'Meat' Variations:
Veggi Meat:
-1 Zucchini, chopped and minced
-3 Mushrooms, cut into small pieces
-1/2 White Onion, minced
-Garlic
-Spices, to taste
In a small saucepan, cook the vegetables. (add a little bit of water, and cook till evaporated instead of oil). Season.

Potato Meat:
-One potato, chopped up then cooked (on the stove, steamed, baked, etc)

Tuna Meat:
-Three tuna patties, crumbled


Taco Shell Variations:
Cauliflower Shell:
-Cheesy, low-cal cauliflower bread (just make the bread, not the pizza part, haha)
Cut into 3 pieces to make shells.

Veggi Shell:
-1 Large Lettuce Leaf, Grape Leaf, Boiled Cabbage Leaf, or any other edible leaf per taco


Directions:
Make your 'meat' and shell (if needed).
Stuff the tacos. Hold the shell in your hand, forming a U-shaped taco shell. Fill with meat and top with salsa. Since these tacos are kind of fragile, wrap with aluminum foil to minimize mess. Makes 3 tacos.


connie.hilton.77
5 years ago
Yummy looks good