Cabbage steak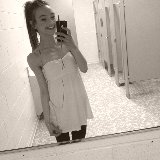 BY
Michelle
Michelle Thomas
0

0

9 years ago

1 head Green Cabbage, cut into 1" thick slices (or thinner)
1.5 tbsp. olive oil
3 large garlic cloves, smashed
salt
black pepper
non-stick cooking spray

Directions:
Preheat oven to 400 degrees F and spray a baking sheet with non-stick cooking spray. Pull outer leaf off cabbage and cut into slices.
Rub both sides with garlic.
Use a brush to evenly spread the olive oil over both sides of the cabbage slices.
Sprinkle each side with salt, black pepper, and any other seasonings. Taco seasonings, oregano, and basil work well too.
Roast for 30 minutes. Carefully flip the cabbage steaks and roast for an additional 30 minutes until edges are brown and crispy.