Teriyaki chicken
PORTIONS: 4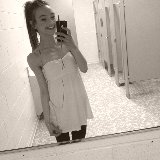 BY
Michelle
Michelle Thomas
0

0

6 years ago

Preheat oven to 350. Blend together 1 tbsp melted butter
1+1/2 tsp dry mustard
In a shallow baking digs place skin side up 4 bone in chicken breasts.
Generously brush with butter mixture. Bake, uncovered about 20 minutes. Drain fat from pan and stir together 2 tbsp soy sauce, 2 tbsp liquid honey, 1/4 tsp ground ginger and 1/4 tsp garlic powder
Pour over chicken. Bake uncovered for 30 or so more minutes.