Mexican" breakfast dish'
PORTIONS: 2-3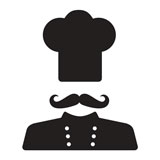 BY
Gerardo'
Gerardo'
0

0

6 years ago

Guebos con Chorizo en Pan Ala Mexicana

.1) 4 egg's Beat
.2)Real pork Mexican chorizo add 1/2 or personal Choice.
-Add Chorizo to cooking pan cook with low heat no oil or butter.
-After 2min Chorizo simmers and pork juice starts separating add.
.3)1 Dice Potato-1Jolene onion-1 clove Garlic dice-1 Red and Green bell peppers Dice and pork ham dice 1/2 cup let that simmer with chorizo 1min. Make sure to add potato first.
.4)Now add Your beat egg's and cook till well done.

Enjoy' with a Italian long bread Stuff with your Chorizo con GUEVOS .