Freezer strawberry pie
PORTIONS: 8 SLICES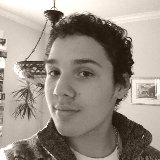 BY
Roscoe2017
Nick Harris
0

0

9 years ago

-20oz hulled strawberries
-4oz sugar
-1 pinch salt
-5 Tbsp corn starch
-1 Tbsp fresh squeezed lemon juice
-1 tsp lemon zest
-2 store bought 9-inch pie doughs
1 egg yolk whisked with 1 tsp water

Wash the berries and pat dry, mash up half the berries in a small bowl and slice the rest into thin slices, set aside. In a medium bowl whisk together the sugar, salt, and corn starch. Add the mashed berries, lemon juice and rind and stir to combine. Let the mixture sit for 15 minutes. Fold in the sliced berries. Line a 9-inch pie plate with aluminum foil. Place the strawberry mixture in the foil and place in the freezer until solid. Preheat the oven to 325 degrees F. Unroll the first piece of dough and place into a 9-inch pie pan and trim the excess. Prick the bottom and sides and set aside. Unroll the second piece of dough and cut into 1 1/8 inch strips that are at least 10 inches long. Place the frozen pie filling in the prepared dough in the pan. Lightly brush the edge of the crust with the egg yolk mixture. Using the dough strips, create a lattice weave across the top of the filling and crimp the edges and trim the excess. Brush the dough strips with the egg yolk mixture. Place the pie on the bottom rack of the oven and bake for 1 hour 15 minutes, the filling should be slightly bubbling on top. Allow the pie to cool to room temperature before serving.