Apple sage pork chops
PORTIONS: 4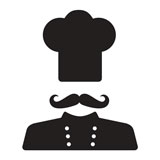 BY
Doug
Doug Noel
0

0

9 years ago

4 thick cut bone in pork chops
1 1/2 tsp rubbed sage
1 tsp granulated garlic
1 tsp thyme
1 tsp paprika
1 tbsp flour
1 tbsp salt
1/4 Evo
1 red apple
Mix all dry ingredients into a small mixing bowl. And rub seasoned flour onto chops. Cut the apple into wedges and set aside. Into a medium sauce pan add the olive oil and sear chops for 2 min on each side.