Panda Express orange chicken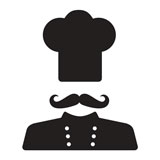 BY
isab
Isabel
0

0

6 years ago

INGREDIENTS:
1 1/2 lbs chicken breast, uncooked
3 well beaten eggs
2 T. milk
1 c. cornstarch
Salt & Pepper to taste

1) Slice chicken into bite-sized pieces.

2) Dip chicken pieces in egg mixture, coat in cornstarch, then dip again in egg mixture. (It's really important to follow that order! Egg-cornstarch-egg. Doing so creates a tempura-like batter.)

3) Fry in oil heated over a medium or medium-high stove, until lightly browned on both sides.

4) Remove and allow to cool on a paper towel before transferring to a cookie sheet.

To cook, make sure chicken pieces are in a single layer on cookie sheet, coat with orange sauce and bake according to directions below.

Orange Sauce
1/2 c. soy sauce
1/4 c. catsup
1/2 c. honey
1/4 c. orange juice concentrate
2 T. white vinegar
1 T. dried chives
1 T. red pepper flakes
1 T. sliced almonds

1) In a medium saucepan, combine soy sauce, catsup, honey, orange juice concentrate, chives and red pepper flakes. Stir together over medium heat and bring just to a boil.
3) Drizzle sauce over fried chicken.

4) Bake in an oven preheated to 400 degrees for 20-25 minutes, stirring often to coat the chicken with the glaze.

5) Remove from oven when glaze is no longer puddled around the chicken, it should be sticky and fully coating the chicken.

Garnish with chives or chopped scallions, red pepper flakes, orange zest, and sliced almonds. Serve immediately over sticky rice.