Mexican
PORTIONS: 4 PEOPLE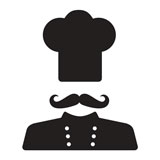 BY
samy
samantha
1

1

9 years ago

Ingredients:

1 can Mexican beans
1 can crushed tomatoes
1 brown onion
1-3 teaspoon sweet chilli
1 teaspoon ground coriander
1 teaspoon ground paprika
300g mince meat (leave out if you want Mexican to remain vegetarian)

Burrito wraps
Lettuce
Onion

Tomato
Cheese
Salsa

Method:

1. Sauté chopped onions and once complete (move to step 2 if keeping vegetarian) add the mince and cook till brown.

2. Add can of beans and let simmer for a few minutes

3. Add can of tomatoes and sweet chilli and spices and cook on low for 20mins or until ready to eat.