Salted Carmel ice cream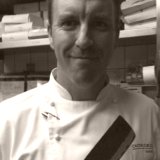 BY
chefbg
Brad Green
2

2

9 years ago

Ingredients
1 1/4 cups sugar
3/4 cup heavy cream
2 teaspoons flaky sea salt, such as Maldon
Ice Cream Base (recipe follows)
1 tablespoon pure Tahitian vanilla extract
Ice Cream Base:
1 cup whole milk
4 large egg yolks
3/4 cup sugar
2 cups heavy cream
Directions
Heat the sugar in a dry heavy-bottomed sauce pan over medium heat, stirring with a fork to heat the sugar evenly, until it starts to melt, then stop stirring and swirl the pan so the sugar melts evenly, and continue cooking until it is a dark amber color.

Carefully add the heavy cream (the mixture will splatter) and cook, stirring until all the caramel has dissolved. Transfer to a heat-proof bowl and stir in the sea salt. Set the caramel mixture over a bowl filled with ice water and stir until chilled to room temperature. Combine the caramel mixture with the Ice Cream Base and add the vanilla.

Freeze in an ice cream machine according to manufacturer's directions.

A viewer, who may not be a professional cook, provided this recipe. The Food Network Kitchens chefs have not tested this recipe and therefore, we cannot make representation as to the results.

Ice Cream Base:
Heat the milk in a sauce pan over medium-low heat.

Prepare an ice bath by setting a 2-quart bowl over a larger bowl partially filled with ice water.

Set a strainer over the smaller bowl and set aside.

In a separate bowl, whisk together the egg yolks and sugar until pale yellow in color and the sugar has dissolved. Gradually pour the warmed milk into the yolk mixture, whisking constantly. Pour the mixture back into the same saucepan you used to warm the milk. Cook for 3 to 5 minutes, stirring constantly, until the custard thickens and coats the back of a wooden spoon.

Strain the custard into the top bowl of the ice bath to stop the cooking process. Add the heavy cream and stir over the ice bath until cool. Cover the bowl with plastic wrap and chill thoroughly, preferably overnight. Yield: about 3 cups.