Fried pickles
PORTIONS: 6 TO 8 INDIVIDUAL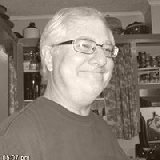 BY
Yantzi
Rick Yantzi
0

0

8 years ago

Dill pickle chips
3/4 to 1 cup beer
2 eggs
1 to 2 cups flour
Cholesterol free oil
Pour oil in large skillet about 1-2 inches deep. Heat oil to 350 degrees.
Strain pickles in small colander.
Whisk eggs and 3/4 cups beer in bowl. Season with salt and pepper. Whisk in enough flour to make batter. If the batter is too thick add beer. If the batter is too thin then add flour.
Dip pickles using tongs one at a time in batter then into heated oil. Fry pickles about 2 minutes 1 minute on each side.
Place on plate lined with paper towel season with salt and serve with Ranch Dressing.