Summer paws cubes
PORTIONS: 3 DOZEN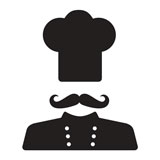 BY
skippella
Skippella
0

0

9 years ago

1/2 gallon water
2 lb chicken

Boil chicken in a large pot with water until done ( about 1 hour) take juice and portion in to muffin pan and freeze. Set chicken aside for later.

I make these for my dogs on really hot day in the summer when they look like there melting. You can put some of the chicken in the ice cubes I wouldn't recommend putting to much in them.

It's a nice cool treat cheap easy.