Chicken Parmesan Pizza
PORTIONS: 4-6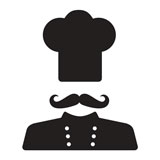 BY
jackkrolak
Jack Krolak
0

0

8 years ago

Ingredients

1 (1/4 oz.) envelope rapid rise dry yeast
1 tsp. sugar
1 cup warm water, divided
3 cups flour
¼ cup olive oil
1 tsp. salt

¾ lb. boneless skinless chicken, cut into bite-sized pieces
¾ tsp. kosher salt
½ tsp. black pepper
¼ cup flour
2 eggs, beaten
1 ½ cup seasoned panko crumbs
3 T. olive oil
1 cup pasta sauce (I used Classico)
¼ cup chopped fresh basil
⅓ cup shredded parmesan cheese
4 oz. fresh mozzarella, cut into cubes
6 oz. fontina, grated

Instructions

Mix the yeast, sugar, and ¼ cup of the warm water together, and let it sit for 3-4 minutes.
Meanwhile, mix the flour, olive oil, salt and remaining ¾ cup warm water together in a large bowl. Add the yeast mixture to flour mixture. Stir well and then turn out onto a floured surface and knead, adding more flour as needed, for about 10 minutes until dough is smooth and elastic.
Drizzle some olive oil in a large bowl. Place the dough in the bowl and turn it over so it is all coated in the oil. Cover the bowl with a clean dish towel and let the dough rise until double in size (about 1 hour).
Meanwhile, prepare the chicken. Sprinkle chicken pieces with salt and pepper, dredge the pieces in flour, dip them in egg, and then coat them in panko crumbs.
Heat 2 T. olive oil in a large sauté pan over medium-high heat. Working in two batches, brown the chicken pieces, about 2 minutes on each side. Remove chicken to a plate, add an additional 1T. oil, if needed, and brown the second batch of chicken.
Preheat oven to 450 degrees F.
When the dough has risen, shape it onto a baking pan (16" round or 12×18" cookie sheet both work). Leaving a 1" border, poke the middle of the crust multiple times with a fork so it doesn't rise too much in the oven. Bake for 10 minutes.
Remove crust from the oven, top it with pasta sauce (again leaving a 1" border around the outside for the crust). Top the sauce with chopped basil, chicken, parmesan, mozzarella cheese, and fontina. Bake for an additional 12-15 minutes, until crust is golden brown.