Fried Cheese Ravioli
PORTIONS: 6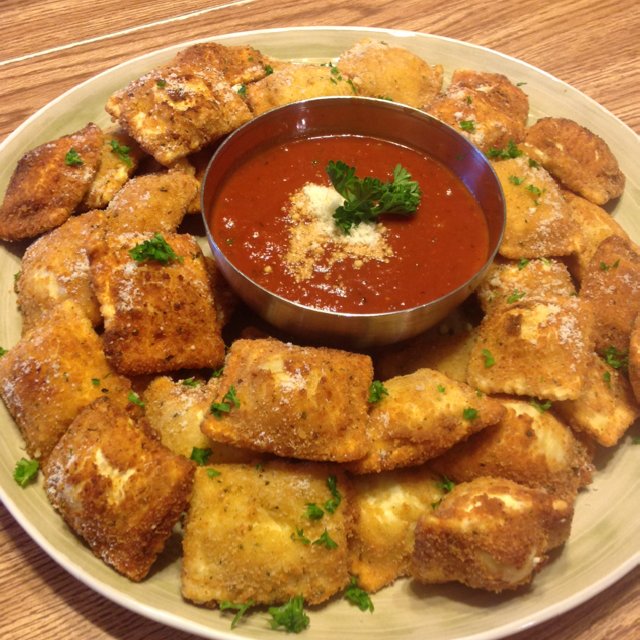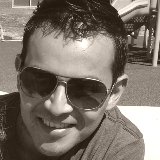 BY
thay
Jesús
7

7

7 years ago

1lb. Frozen Cheese Raviolis
2 tbsp Parmesan Cheese
1 lb. Can Whole Plum Tomato or favorite Chunky Marinara
1 cup White Flour
3 cup Italian Bread Crumbs
2 Eggs
1 cup Milk
36 fl oz Canola Oil
1 Handful of Fresh Basil
2 tbsp Parsley (optional )
4 Garlic Cloves ( optional )
2 tbsp Extra Virgin Olive Oil ( optional )
1 tbsp Brown Sugar ( optional )
Salt & Black Pepper to taste

DIRECTIONS :
THE RAVIOLIS:
-In a Bowl mix the eggs,milk and Parmesan cheese. 
-Flour the Raviolis,then put them in the egg mix and last to the bread crumbs*. 
-Heat the Canola Oil in medium heat,add the Raviolis and cook them for around 15 minutes,keep turning both sides until golden brown and crispy,place them in plate with paper towels to drain some oil.
THE SAUCE:
-In a small pot cook some garlic in Olive oil(medium heat),when they get browned add the basil and tear it with your hands (this will cause the oil to drizzle),stir it for just 30 seconds;add the tomato along with salt and pepper to taste**,let it cook for around 10 minutes,just crush the tomatoes and it is done.
-Serve and sprinkle with some cheese and Parsley.
TIPS : *With one hand,use it for the flour and egg and with the other one to bread them,...this will keep it from forming balls in the crumbs.
**You can add brown sugar to reduce the acidity of the tomato.