Mexican Potato Salad
PORTIONS: 6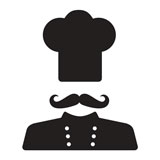 BY
alexisbaird
Alexis Baird
0

0

8 years ago

2 pounds red potatoes
1 cup frozen corn kernels, thawed
1 large tomato
1 bunch scallions
1 cup fresh salsa
2 tablespoons fresh lime juice
2 tablespoons chopped fresh cilantro or parsley
Pepper

Place the potatoes in a large pot and cover with water. Bring to a boil, reduce heat, cover, and cook 30 minutes, or until just tender. Remove from the heat, drain, and place in a large bowl. Add the corn, tomato, and scallions. Combine the salsa and lime juice. Pour over the salad and mix well. Add the cilantro or parsley and a few twists of pepper. Mix gently and serve at once.