Shepherds Vegetable Pie
PORTIONS: 6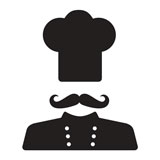 BY
alexisbaird
Alexis Baird
0

0

5 years ago

3 cups vegetable broth
1 onion
1 green bell pepper
Teaspoon minced bottled fresh garlic
Teaspoon sage leaves
Teaspoon marjoram
1 tablespoon soy sauce
1 carrot
1 cup cauliflower florets
1 cup cabbage
1 cup green beans
2 tablespoons cornstarch mixed in 1/3 cup cold water.
Fresh pepper

Cook, stirring occasionally, for about 4 minutes. Stir in sage, marjoram and soy sauce. Add the remaining vegetable broth and the carrots, cauliflower, cabbage and green beans. Bring to a boil, cover, reduce heat and cook for 20 minutes, stirring occasionally. Add the cornstarch mixture and stir until thickened. Season with pepper. Cover vegetable mixture with mashed potatoes and sprinkle with paprika. Bake for 30 minutes.