Maple Mashed Sweet Potatoes
PORTIONS: 6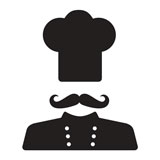 BY
alexisbaird
Alexis Baird
1

1

8 years ago

3 pounds sweet potatoes
1 cup soy milk
1 tablespoon pure maple syrup
Dash of salt
Pepper

Preheat oven to 400 degrees.
Scrub potatoes and prick all over with a fork. Place on a baking sheet and back for about 45 minutes, or until tender.
Remove from oven and allow to cool slightly. Cut potatoes in half lengthwise and scoop out flesh into a large bowl. Mash with a hand masher or electric beater.
Add soy milk, maple syrup and seasonings. Mix well.