Global Bean Stew
PORTIONS: 6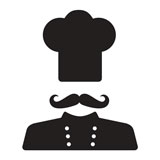 BY
alexisbaird
Alexis Baird
0

0

8 years ago

3 cups vegetable broth
1 onion
2 stalks celery
2 carrots
1 green bell pepper
1 red bell pepper
3 cloves garlic, minced
2 cups baby potatoes, chunked
2 15-ounce cans white cannellini beans, drained and rinsed
8 ounce tomato sauce
1 cup hummus
1 tablespoon parsley flakes
1 tablespoon soy sauce
1 teaspoon basil
1 teaspoon oregano
1 teaspoon smoked paprika
1/8 teaspoon crushed red pepper
1 cup cooked quinoa
2 cups thinly sliced spinach

Place 1 cup of the broth in a large pot. Add onion, celery, carrot, bell pepper, and garlic. Cook, stirring occasionally, for 10 minutes.
Add remaining broth, potatoes, and beans. Bring to a boil, cover, reduce heat and cook for 30 minutes.
Add tomato sauce, hummus, and seasonings. Cook an additional 10 minutes. Add cooked quinoa, mix well, and cook for 5 minutes.
Stir in spinach and cook 2 minutes.