Shrimp w/ Ancho Butter
PORTIONS: 4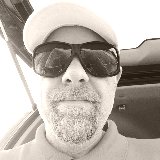 BY
Bluie
Bishop
0

0

8 years ago


Ancho Chile Paste

3 chiles de árbol
3 dried ancho chiles
½ small onion, unpeeled, halved
2 garlic cloves, unpeeled
2 Tbsp. fish sauce (such as nam pla or nuoc nam)
1 Tbsp. light brown sugar
Kosher salt

Place chiles de árbol and ancho chiles in a medium bowl and cover with boiling water; cover bowl and let stand 30 minutes. Drain, reserving ½ cup liquid. Remove stems and seeds from chiles; discard (leave in some seeds for more heat, if desired).

Heat a small cast-iron or other heavy skillet over high heat. Add onion and garlic and cook, stirring occasionally, until softened and lightly charred, 8–10 minutes; peel. Purée onion, garlic, chiles, fish sauce, sugar, and ¼ cup soaking liquid in a blender until smooth; season with salt.


Shrimp And Assembly

2 lb. large fresh head-on shrimp (about 16)
4 Tbsp. olive oil, divided
4 garlic cloves, thinly sliced
1 Tbsp. heavy cream
¾ cup (1½ sticks) unsalted butter, cut into pieces
3 Tbsp. (or more) fresh lime juice
Kosher salt and freshly ground black pepper
Finely chopped fresh flat-leaf parsley
Toasted country-style bread (for serving)

Heat 2 Tbsp. oil in a small saucepan over medium-high heat. Add garlic and cook, stirring often, until softened (do not let brown), about 3 minutes. Add ½ cup ancho chile paste (reserve remaining paste for another use) and cook, stirring often, until fragrant, about 2 minutes; add cream. Add butter piece by piece, whisking after each addition until emulsified. Once sauce has thickened, mix in lime juice by teaspoonfuls; season ancho butter sauce with salt and pepper.
Heat remaining 2 Tbsp. oil in a large cast-iron or other heavy skillet over high heat. Season shrimp with salt and pepper and, working in batches, cook until shells are golden brown and shrimp are opaque in the center, about 3 minutes per side. Transfer to a large bowl, add warm sauce, and toss to coat; season with salt, pepper, and more lime juice, if desired.
Divide shrimp and sauce among bowls, top with parsley, and serve with crackers alongside.