Eggplant Parmesan
PORTIONS: 4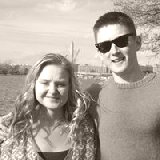 BY
DNAllyn
Danielle Allyn
1

1

8 years ago

1 small eggplant
2 cups portobello mushrooms
2 cups tomato/marinara sauce, any meatless variety
1 cup shredded mozzarella cheese, divided
1/2 cup shaved parmesan cheese
Garlic sat, pepper, oregano
Fresh basil

1. Preheat oven to 350.
2. Slice eggplant into thin slices. Coat with herbs (excluding basil) and place half of eggplant slices in the bottom of a greased baking dish.
3. Layer all of the mushrooms on top of the eggplant. Add 1/2 mozzarella and 1 cup sauce.
4. Top with remaining eggplant slices. Coat with remaining 1 cup sauce, fresh chopped basil, and remaining mozzarella.
5. Bake 20 min.
6. Remove from oven and sprinkle on Parmesan cheese. Bake an additional 10 min. Allow to cool before serving.