Spinach and Feta Calzones
PORTIONS: 6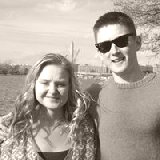 BY
DNAllyn
Danielle Allyn
1

1

8 years ago

32oz whole wheat pizza dough
1 cup fat free ricotta cheese
1 cup reduced fat mozzarella cheese
1 cup reduced fat feta cheese
1 egg
2 cups baby spinach
Garlic salt, pepper, oregano, basil
Lemon juice

1. Preheat oven to 350.
2. In medium bowl, mix cheeses, egg and herbs.
3. Add spinach and small amount of lemon juice to cheese mixture. Mix well.
4. Divide dough into 6 portions. Place on 2 greased baking pans and flatten.
5. Place portion of filling in each piece flattened dough. Wrap dough around filling to enclose.
6. Sprinkle each calzone lightly with garlic salt. Bake at 350 for 20 minutes.