French toast casserole
PORTIONS: 8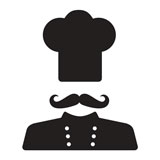 BY
cheftracey
Tracey
0

0

8 years ago

1 loaf of stale bread cubed
6 eggs
1 3/4 cups of milk
1/2 cup half and half cream
3/4 cups sugar
2 tablespoons of vanilla
1/2 cup flour
1/2 Cup of brown sugar firmly packed
1 teaspoon of cinnamon
1/2 teaspoon of salt
1 stick of butter cubed

Preheat oven to 350°
9X 13 greased pan
Tear bread into chunks and place in pan.
Mix eggs, milk, cream, sugar, and vanilla and pour over bread.
In another bowl mix flour, brown sugar, cinnamon & salt. Add butter and mix until the better come somewhat together.
Sprinkle flour mixture over bread.
Bake for 45 to 60 minutes until golden brown.