Pineapple Chicken Kebabs
PORTIONS: 6 KEBABS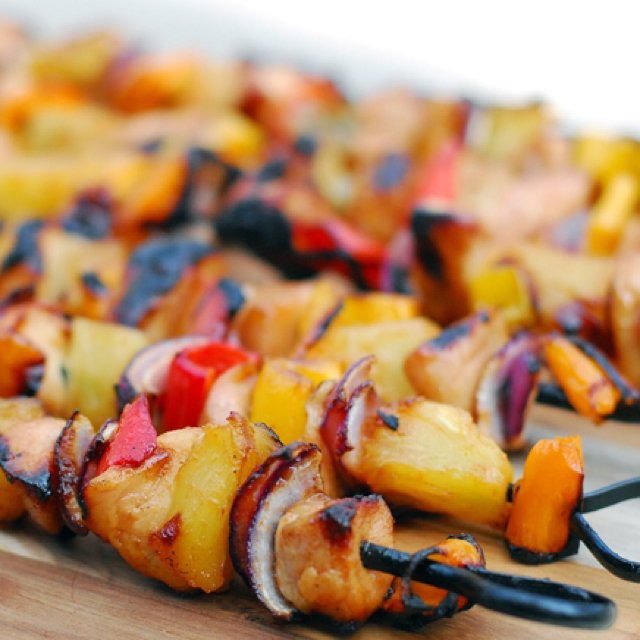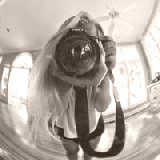 BY
kikiheron
Kiki Heron
0

0

8 years ago

Ingredients

1 lb Chicken Breast
1 bag of mini orange, red and yellow peppers
1 onion
20 oz can Pineapple chunks, pineapple juice reserved

Pineapple Marinade:
¼ cup Pineapple juice
2 tbsp Soy sauce
3 tbsp Honey
2 tbsp Vinegar
1 tsp Sesame oil
¼ tsp Ginger
¼ tsp Garlic powder
2 tbsp Olive oil

Pineapple Grilling Sauce:
½ cup Pineapple juice
2 tbsp Honey
1 tbsp Sriracha sauce
1 tbsp Olive oil
1 tsp Soy sauce

Instructions

Pineapple Marinade:
1) Start by draining the juice from a 20 ounce can of pineapple chunks into a glass bowl. The pineapple juice will be used for both the marinade and the grilling sauce.
Mix together ¼ cup of the pineapple juice, soy sauce, honey, vinegar, sesame oil, ginger, garlic powder and olive oil.

2) Cut each piece of chicken into 6 pieces. Place all of the pieces in the marinade, cover and refrigerate for 4-8 hours.

Pineapple Grilling Sauce:
3) In a small saucepan, mix together ½ cup of pineapple juice, honey, sriracha sauce, olive oil and soy sauce. Bring the mixture to a boil over medium high heat. Once it starts to boil, turn the heat down and simmer for 4-6 minutes. Remove from heat and set aside.

Spicy Pineapple Chicken Kabobs:
4) Cut red, orange and yellow peppers into chunks. Slice an onion into chunks. Grab the drained pineapple chunks and the marinated chicken. Thread the ingredients onto 6 kabobs, alternating items, putting 6 pieces of chicken on each kabob. Don't forget that wooden skewers need to be soaked for 30 minutes before using.

5) Heat the grill to medium-high heat. Brush the pineapple grilling sauce over the kabobs. Lightly oil the grill grates and then place the kabobs on the grill. Cook over medium-high heat, turning and brushing with pineapple grilling sauce often, for 12-15 minutes, until chicken is fully cooked.