Stuffed Chicken Marsala
PORTIONS: 4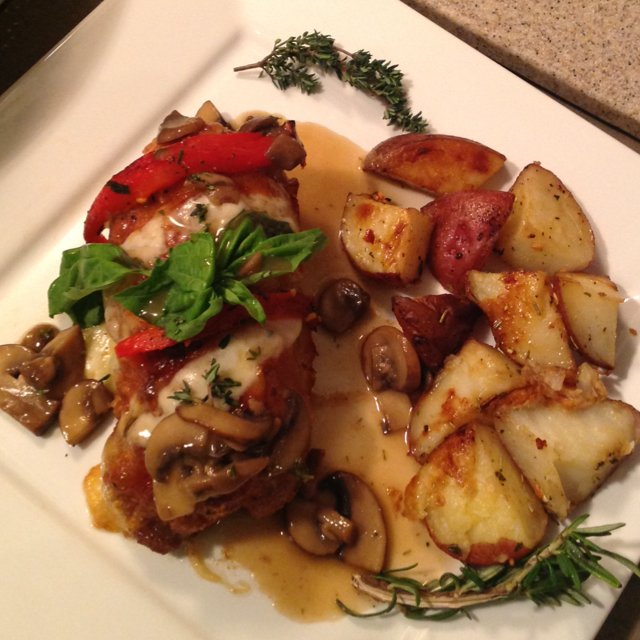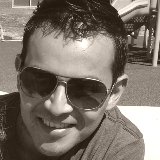 BY
thay
Jesús
5

5

9 years ago

8 Pieces of thin Boneless Chicken Breasts
16 oz Cremini Mushrooms
8 oz Fresh Spinach
4 oz Ricotta Cheese ( skim or whole )
8 oz Mozzarella Cheese ( slices )
2 1/2 cup Semi- Sweet Marsala Wine
1/2 cup Beef Broth
1 1/2 tbsp Salted Butter
8 oz Italian Bread Crumbs
1 Cup White Flour
3 Eggs
1 cup Milk
1 tbsp Parmesan Cheese
36 oz Canola Oil
1/2 lb. Red Potatoes
1 tsp Minced Garlic
4 tbsp Extra Virgin Olive Oil
1 tsp Paprika
1 Small Package of Fresh Rosemary, Fresh Thyme
1 oz Fresh Basil
1 oz Roasted Red Pepper

DIRECTIONS : 🐔

STUFFED CHICKEN MARSALA
THE STUFFING:
-Cook the mushroom in 2 tbsp of Olive oil,for 3 minutes,add salt and pepper to taste,add the chopped spinach,cook it for just 1 minute and mix well,remove from heat and add the ricotta cheese,mozzarella.
THE CHICKEN :
-With a pounder meat, pound (use the pointy side of it )the chicken individually,just firm but not to hard to avoid breaking it,pound from middle towards the side to expand the chicken; after they are done,put two pieces together,one like 1/3 on top of the other one and pound the joint softly so you will get a bigger piece.
-Place 1 1/2 tbsp of the stuffing on each chicken layer,right above the middle and start rolling it in and pulling the sides inside at the same time you are pressing tight,place them in a plate with the joint down.
THE BREADING :
- Whisk the eggs with the milk and the Parmesan cheese.Flour the chicken,then through the egg mix and bread.* - Fry them in medium heat oil for just 2 minutes or until light brown.( it is important to put the joint facing down,this will help to seal it.
-BAKING :
-Cut the red potatoes in 4th and add 1 tbsp of butter,1 tbsp of Olive oil,1 tsp of chopped fresh thyme,1 tsp of fresh chopped rosemary,1 tbsp of minced garlic,1 tsp of paprika,salt and pepper to taste and some crushed red pepper flakes if desire.Mix them well in a bowl and put in the oven,some cooking spray in the baking tray,bake at 375 for 20 minutes.
-Put the stuffed chicken in the oven in a baking dish for 8 minutes at 375 with some Marsala wine and beef broth.After add some strips of mozzarella cheese and roasted red pepper as well,bake until cheese melt and remove from oven,add** the Marsala sauce and serve with the potatoes, if you wish some thyme, rosemary and Basil will give presentation to your dish.
THE SAUCE :
**While baking the chicken; cook the reaming mushroom in 1tbsp Olive oil then add 2 cups of Marsala wine in a small pot with 1/2 cup of beef broth,and 1 tsp of butter,1 tsp of chopped fresh thyme;cook in high heat,to thicken the sauce add roux*** gradually mixing it until it gets the right thickness.
TIP : * use one hand for the flour and egg mix and one for just BREADING,this prevents junk in the crumb.
***ROUX : it is a thickening made of flour and butter for sauces;melt 1 tbsp of butter and mix with 2 tbsp of white flour.