Chorizo & Peppers
PORTIONS: 2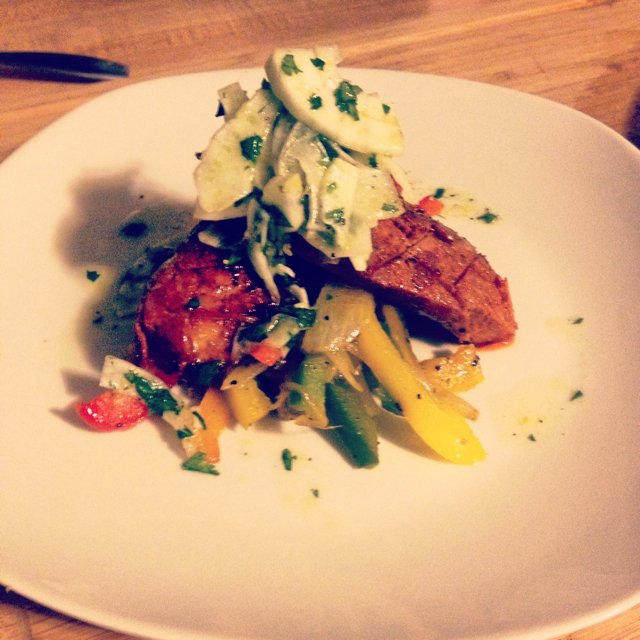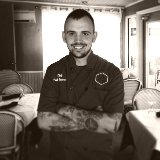 BY
PaulTavares
Paul Tavares
2

2

9 years ago

1 link of mild Chorizo
1/2 red bell pepper
1/2 yellow bell pepper
1/2 green bell pepper
1/2 orange bell pepper
1/2 small white or sweet onion
1/2 bulb fennel
1/2 bunch fresh cilantro
1 lemon
1/2 cup extra virgin olive oil
1/4 cup rice wine vinegar
Kosher salt
Cracked black pepper

1. Slice onions and all bell peppers in thin long slices.
2. Add a splash of cooking oil to a med-high sautéed pan.
Add onions and sweat down for about 2 minutes.
Add bell peppers and cook for 3 more minutes.
Add salt and pepper to taste.
3. In a separate med-high heated sauté pan add a splash of cooking oil
4. Use a knife and slice a link of chorizo in half length wise.
Season with salt and pepper
Place into heated sauté pan flat side down.
Allow to cook for about 2 minutes then flip and allow to cook for 2 more minutes.
5. Slice the fennel bulb as thin as possible to form long thin strips.
Roughly chop up the cilantro.
Add the fennel and cilantro to a small mixing bowl.
Add 1 lemons zest and juice.
Add extra virgin olive oil.
Add rice wine vinegar.
Add kosher salt to taste.
Add black pepper to taste.
Mix well.