Chicken Blue
PORTIONS: 3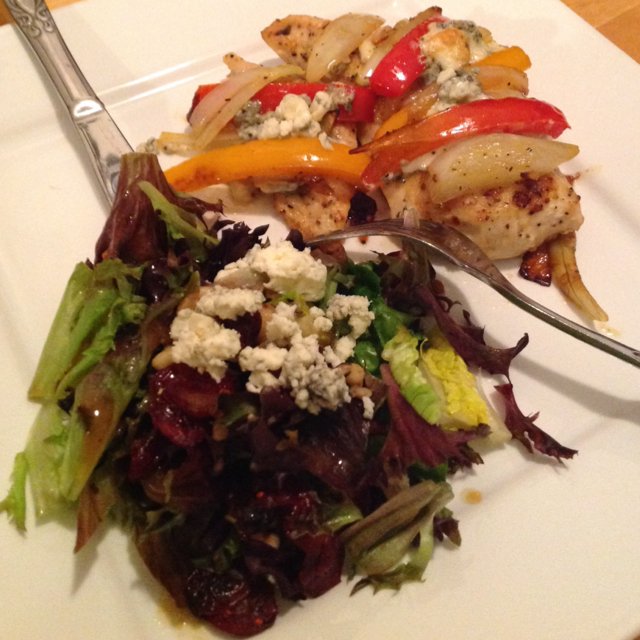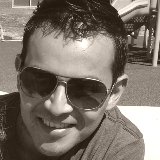 BY
thay
Jesús
2

2

8 years ago

2 Boneless Chicken Breasts
1 Big Yellow Onion
2 Color Bell Peppers
1 Cup of Blue Cheese
1 Bag of Spring Mix Salad
1/4 cup of Dried Cranberries
1/4 cup of Chopped Walnuts
Balsamic Vinegar Dressing
(Or your favorite)
1/4 cup of White Flour
Steak seasoning
1 tbsp Salted Butter
3 tbsp Extra Virgin Olive Oil
1tsp Lemon Juice
Salt & Black Pepper (to taste)

DIRECTIONS :
Chicken Blue...
- Turn oven on at 450
- Remove fat from chicken and cut it each breast in three pieces (long way), dust in flour and
place in saucepan medium heat with 1/2 tbsp of butter and 1 tbsp of Olive oil, season with
steak seasoning (to taste) One side first, after 4 minutes flip and season the other side and
cook for another 4 minutes or until golden brown and add 1 tsp of lemon juice on top of
the chicken.
- BAKING
- Place the chicken in a baking tray and add the remaining butter and cover with foil and 
bake for 6 more minutes.
- VEGGIES
- While baking cut the onions in thick slices, do the same with the peppers and remove the 
seeds and sauté for just 4 minutes with 2 tbsp of Olive oil , add salt and black pepper to 
taste.
- CHEESE
- Remove chicken from the oven and change it into high broil, then place some crumbles of 
blue cheese on top of the chicken along with the veggies add more cheese on top and broil 
until melting. Serve with salad
- THE SALAD
- Mix the greens, dried cranberries, chopped walnuts,blue cheese with the dressing and
serve.