Pad Thai
PORTIONS: 4 PERS.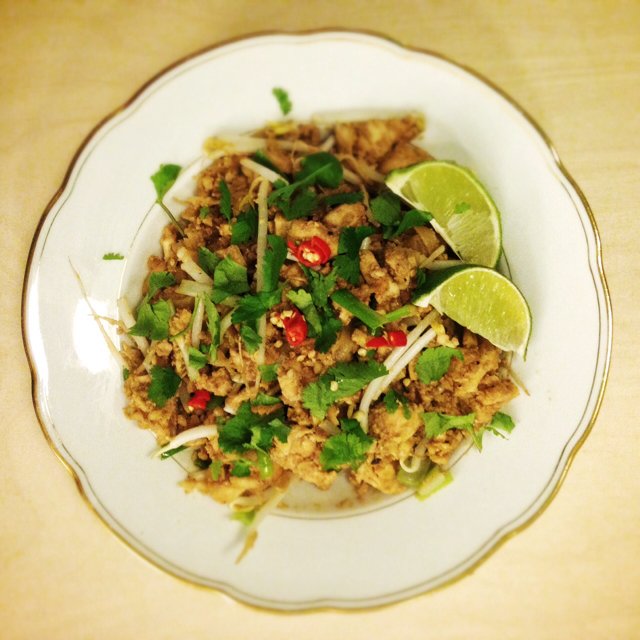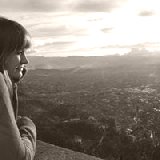 BY
Martine
Martine Aabye
11

11

9 years ago

English version below.

En af de mest klassiske thai-retter, som samtidig er virkelig nem og hurtig at lave.
Find de thailandske ingedienser i et thai-supermarked, f.eks. det på Istedgade.

Ingredienser
200 g. tørrede risnudler, medium brede
Stegeolie, f.eks. sesamolie
1 dl tofu i strimler (den faste)
1 lille løg
4 fed hvidløg
1 dl Pad Thai sauce
1/2 dl fiskesauce
1 dl soyasauce
1 spsk sukker
1 dl tørrede rejer (kan udelades)
500 g kyllingeinderfilet i tynde skiver
6 æg pisket sammen
1 dl finthakkede jordnødder
En håndfuld forårsløgstoppe skåret i stykker på ca. 3x1 cm
En stor håndfuld friske bønnespirer
Friskkværnet peber
Koriander
Lime i både
Evt. chili, frisk eller i flager

1. Stil risnudlerne i blød i lunkent vand i ca. 30 minutter. Tag dem op og skær dem i stykker på ca. 4 cm.

2. Gør alle råvarer klar og hav følgende klar ved wokken:
Stegeolie, hvidløg, løg, tofu, rejer, jordnødder, kylling, saucer, sukker, nudler, æg, peber, bønnespirer, forårsløgstoppe og 1 dl vand.
Gem en smule hakkede jordnødder og forårsløgstoppe til at drysse over til sidst.

OBS: Tilberedningen skal ske under grundig, energisk og konstant omrøring!! Især æg og nudler brænder let på.

3. Opvarm en wok med olie ved høj varme, tilsæt hvidløg, løg og tofu og varm igennem under omrøring i ca. 2 minutter.

4. Tilsæt i følgende rækkefølge:
Rejer, jordnødder, Pad Thai sauce, fiskesovs, sojasovs, sukker, et godt drys peber, chili og kylling. Steg indtil kyllingens overflade er nogenlunde lukket.

5. Tilsæt æg og 1 dl vand.

6. Tilsæt nudler.

7. Smag til: Mangler der salt (fiskesovs eller soyasauce) eller sødme (sukker)? Syren kommer efterfølgende, når man presser lime over.

8. Sluk for varmen og vend hurtigt bønnespirer og forårsløgstoppe i retten.

9. Anret med drys af knuste jordnødder, lidt ekstra forårsløgstoppe, koriander og evt. chili samt med en skive lime ved siden af som skal presses ud over lige inden retten spises.

Kan evt. serveres med en let grøn salat af frillice og et par tomatbåde vendt i risvinseddike.

------------------------------

One of the most classic Thai dishes that is also really easy and quick to cook although with a somewhat long ingredient list.

INGREDIENTS
200 g. dried rice noodles, medium size
Frying oil, f.ex. sesamolie
1 dl chopped baked tofu
1 small onion
4 cloves of garlic
1 dl Pad Thai sauce
1/2 dl fish sauce
1 dl soy sauce
1 spoon of sugar
1 dl dried shrimp (can be left out)
500 g chicken inner filet in thin slices
6 eggs whipped together
1 dl finely chopped peanuts
One handful of spring onion tops (the green part) cut in approx. 3x1 cm slices
One large handful of bean sprouts
Freshly ground pepper
One large handful of coriander
2 lime fruits in wedges
Chili to taste, fresh or in flakes

1. Soak the rice noodles in luke warm water for approx. 30 minutes. Remove them from the water and chop them into approx. 4 cm long pieces

2. Prepare all the ingredients as described above and have the following ready by the wok:
Frying oil, garlic, onions, tofu, shrimp, peanuts, chicken, sauces, sugar, noodles, eggs, pepper, bean sprouts, spring onions, chili and 1 dl of water.
Save a bit of the chopped peanuts and the spring onions for toppings.

NOTE: Frying the ingredients must be done under constant and vigorous stirring. Especially the eggs and the noodles have a tendency to burn!

3. Place a wok with a good splash of oil over high heat. Once heated add garlic, onions and tofu and heat it through for approx. 2 minutes while stirring.

4. Add in the following order:
Shrimp, peanuts, Pad Thai sauce, fish sauce, soy sauce, sugar, pepper, chili and chicken. Fry while stirring until the surface of the chicken is just about closed.

5. Add eggs and 1 dl of water æg

6. Add noodles

7. Taste: Does it lack salt (add fish sauce or soy sauce) or sweetness (add Pad Thai sauce or sugar)? The acidity will come later once lime is squeezed over the dish just before eating.

8. Turn off the heat and give bean sprouts and spring onions a quick turn in the dish

9. Serve with a sprinkle of chopped peanuts, a bit of extra spring onions, coriander and chili to taste as well as a couple of lime wedges on the side (should be squeezed over the dish just before eating).

As a green side dish, serve a light green salad of frillice lettuce and tomato wedges tossed in a bit of rice wine vinegar.