Sam's Chicken Noodle Soup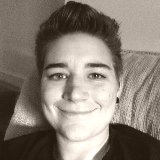 BY
RuggerChef
Nikki
0

0

6 years ago

1 package Reames Homestyle Egg Noodles
12 cups Chicken Broth
2 Bay Leaves
2 tsp Parsley
1/2 tsp Thyme
1tsp Black Pepper
2 cups onions chopped
2 cups carrots shredded
2 cups heavy cream or half and half
8 tbsp Butter
1/2 cup flour
1 lb rotisserie chicken

Bring chicken broth to a boil with the bay leaf. Add noodles and simmer for 20 minutes. Stir often.
Add the parsley, thyme, black pepper, onions, celery and carrots. Simmer for about 10 minutes or until done.
Meanwhile melt butter in a skillet. Add flour and cook for 1-2 minutes.
Add cream to noodle mixture. Bring back to good simmer. Add the flour mixture, cook and stir until thickened. About 2 minutes.
Add chicken and discard bay leaves.