Red Thai Curry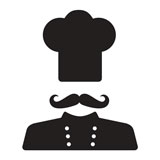 BY
Wikitoria
Wikitoria Tahuparae
0

0

6 years ago

Chicken (as much as you want)
Mix vegetables
2 T Red curry paste
1 T palm sugar
1/2 onion
1 t fish sauce
1 can of coconut cream
1 t lemon grass
1 t oil

Slice onion into strips. Chop chicken into average chunks. Chop vegetables into small portions. Preheat pan to just above medium heat and add oil. Once heated, add onion and sauté for 2 minutes. Add red curry paste and mix in to onions. Let the paste cook for another 2 minutes. Add coconut cream to pan, and then add chicken. Put lid on pan and let the chicken boil in the mixture for 10 minutes (maybe longer or shorter, depending on if chicken has boiled and is no longer raw). Once chicken is no longer raw, add your vegetables. Let it cook for another 5 minutes. While waiting for it to cook, finely chop your lemon grass and crush your palm sugar (if not already crushed/chopped). Add lemon grass, palm sugar and fish oil. Let dish simmer for 5-10 minutes. Done.