Vanilla Cupcakes
PORTIONS: 2 DOZEN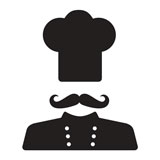 BY
Wikitoria
Wikitoria Tahuparae
0

0

6 years ago

225g butter, softened
200g caster sugar
200g plain flour
2tsp baking powder
4 eggs
1 tsp vanilla extract

Preheat the oven to 175 degrees.
Place all the ingredients for the base in a medium bowl and beat with an electric mixer until smooth and pale, about 2-3 minutes. Spoon the mixture into the cups to come just under half way up the sides. Bake for 10-15 minutes.