Rosemary Balsamic chicken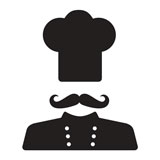 BY
taloysius
Tom O'Neil
0

0

8 years ago

1 Tbsp Extra Virgin Olive Oil
1/2 cup Balsamic Vinegar
1/8 cup brown sugar
2 cloves Garlic, minced
2 tsp fresh Rosemary, minced
3 boneless skinless Chicken Breasts
1/2 tsp Salt and Pepper, to taste


Rinse chicken breasts under cold water, pat dry with a paper towel, and place in a baking dish.

Drizzle olive oil over all 3 chicken breasts, and lightly rub to evenly distribute the oil.

Sprinkle salt and pepper over chicken.
Press fresh garlic and rosemary into chicken breasts.

Roast at 400°F for about 20–25 minutes or until the meat yields an internal temperature of 170°F.

Remove chicken from oven and pour 1/4 cup balsamic vinegar glaze (4:1 vinegar sugar, mix and bring to boil, simmer for 20-25 min until thick) over fully cooked chicken breasts.

Serve with a fresh sprig of rosemary.