Penne Vodka with Chicken
PORTIONS: 4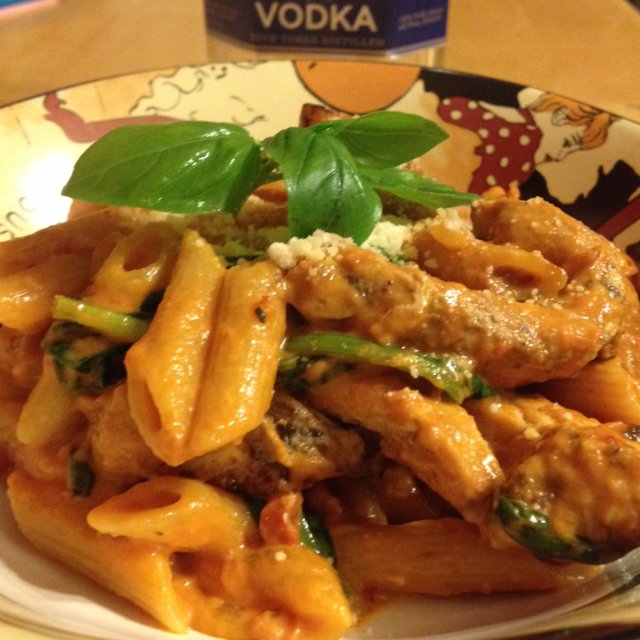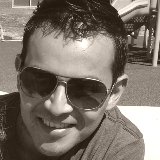 BY
thay
Jesús
4

4

9 years ago

1 lb Penne pasta
1 Cup of Pancetta (Italian Bacon)
2 Yellow Onions (medium size)
1 Medium Can of Whole Plum Tomatoes in Basil
1/2 Cup of Vodka
1 Pint of Heavy Cream
1/2 Bag of Fresh Spinach
3 Boneless Chicken Breast
4 tbsp of Olive Oil
1 Handful of Fresh Basil
Fresh Oregano
Balsamic Vinegar
2 tbsp of Grated Parmesan Cheese
Salt & Black Pepper to taste

DIRECTIONS:

THE SAUCE :
-Cut the onions into thin rings,chop some Basil for the sauce.
-In a pan put a tbsp of Olive oil and cook the pancetta throughly on medium heat add the onions and stir regularly, black pepper to taste, Basil, when starts to sizzle add the vodka (watch for the flame ) let it cook for just 30 seconds and pour the tomatoes and cook in low heat, pour the heavy cream and cook for around 10 minutes,stir regularly, you can start crushing the tomatoes to get a chunky sauce,add some salt if needed (the pancetta takes care of that). Add Parmesan cheese as needed.
THE PASTA :
- Bring water with salt to boil, cook the pasta for 7-8 minutes to get a tender finish.Drain it well before add into the sauce.
THE CHICKEN :
- Cut the chicken in strips and cook in a sauté pan medium heat with Olive oil, it will take like 5 minutes, dust the chicken with flour first, while cooking add salt,pepper to taste,fresh oregano,crushed red pepper (if desire) and a hint of Balsamic vinegar.
TO SERVE : after chicken is cooked add them to the sauce along with cooked pasta and the fresh spinach(you can tear it with your hands) mix and serve.