Pistachio-Mint Pesto Pasta
PORTIONS: MAKES 4 SERVINGS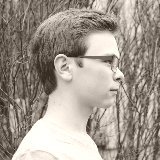 BY
marcushedstrom
Marcus Hedstrom
0

0

9 years ago

1/2 cup fresh mint leaves
1/2 cup fresh flat-leaf parsley leaves
1/4 cup plus 4 teaspoons unsalted, shelled dry-roasted pistachios, divided
3 tablespoons extra-virgin olive oil $
5/8 teaspoon kosher salt
1/4 teaspoon freshly ground black pepper
1 large garlic clove
1 (9-ounce) package refrigerated fettuccine
12 cherry tomatoes, halved $
1 ounce fresh pecorino Romano cheese, shaved (about 1/4 cup)
Preparation

1. Combine mint leaves, parsley leaves, 1/4 cup pistachios, olive oil, kosher salt, ground black pepper, and garlic in a mini food processor; pulse mixture until coarsely chopped.
2. Cook fettuccine according to the package directions, omitting salt and fat. Drain fettuccine over a bowl, reserving 1/4 cup of the cooking liquid. Combine pesto mixture and reserved cooking liquid in a large bowl, stirring with a whisk. Add pasta to bowl; toss well to coat. Gently fold in cherry tomatoes. Coarsely chop remaining 4 teaspoons pistachios. Top pasta evenly with pecorino Romano cheese and chopped pistachios.