Cookies
PORTIONS: 50-60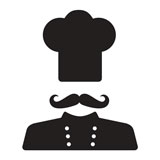 BY
taloysius
Tom O'Neil
1

1

9 years ago

Stick of butter (8tbs) room temp
1 cup sugar
1/2 cup brown sugar
1/2 tsp vanilla
2 eggs (prior beaten)

1 cup flour
1 cup oatmeal
1/2 tsp salt
1/2 tsp baking soda

1 cup milk chocolate chips

directions:
Preheat oven to 350°F. Line baking sheets with nonstick baking mats or parchment paper.

In a medium bowl combine the flour, baking soda, salt, and oatmeal.

In the bowl of an electric mixer beat the butter, granulated sugar, and brown sugar until creamy, about 2 minutes. Add the egg and vanilla, beating well to combine. Gradually beat in the flour mixture. Stir in the chocolate chips. Scoop 1 1/2 tablespoon-sized balls and place onto prepared baking sheets.

Bake for 10- 12 minutes, or until golden brown. Cool for 2 minutes before removing to wire racks to cool completely.